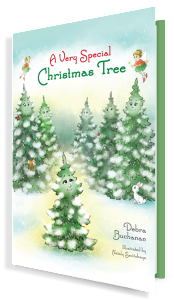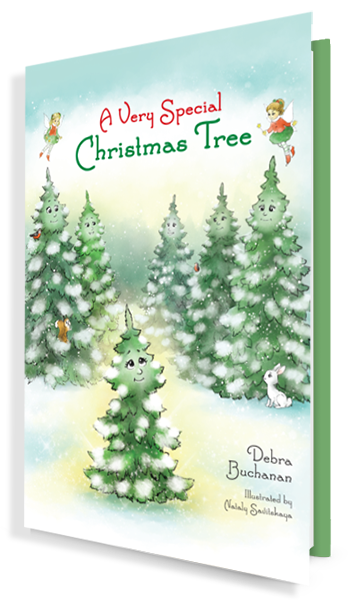 A Very Special Christmas Tree is a picture book that helps spread the "true meaning" of Christmas. Set in a beautiful forest, the author spins a tale about a little tree in a grove of large trees that all have perfect branches. While all of the trees grow and spread their strong limbs, the little tree keeps hope that she will also grow tall and strong. Fall comes and the little tree is still the smallest and her branches are awkward. As she watches the trees be purchased one by one after Thanksgiving and find homes in prestigious places that are New York City hotspots and known for creating Christmas Spirit, the little tree is the last one standing. A gentleman eventually comes and takes the little tree to what appears to be a simple place with few decorations. However, the little tree unexpectedly receives the best honor of all Christmas trees when she realizes that the true meaning of Christmas is not just about beauty and sparkle and all things grand, but the gift of giving—giving in a greater sense, giving of oneself. The little tree has found a place in a church that provides shelter for homeless families. The joy that the gentleman and his simple holiday decorations and small Christmas tree bring are the highest Christmas honors.
Author Debra Buchanan is an award-winning dance educator and director. A Very Special Christmas Tree began as a ballet to be performed during the Christmas season and Buchannan has seamlessly transformed her story from movementto words. While the story of a small tree finding a home is a familiar one, readers will enjoy the tour of the grandiose Christmas Trees of New York—at Saks Fifth Avenue, Lincoln Center, The Plaza Hotel, and Radio City Music Hall. The quiet story transition illustrates the beauty that comes from the simple but powerful gifts of kindness and generosity. It's well written and the color illustrations add warmth and a blanket of gentleness that rounds out this lovely little book.
While this story is secular at its core, the message of kindness and giving is delivered beautifully for all.A Very Special Christmas Tree would make a nice addition to a holiday reading collection.